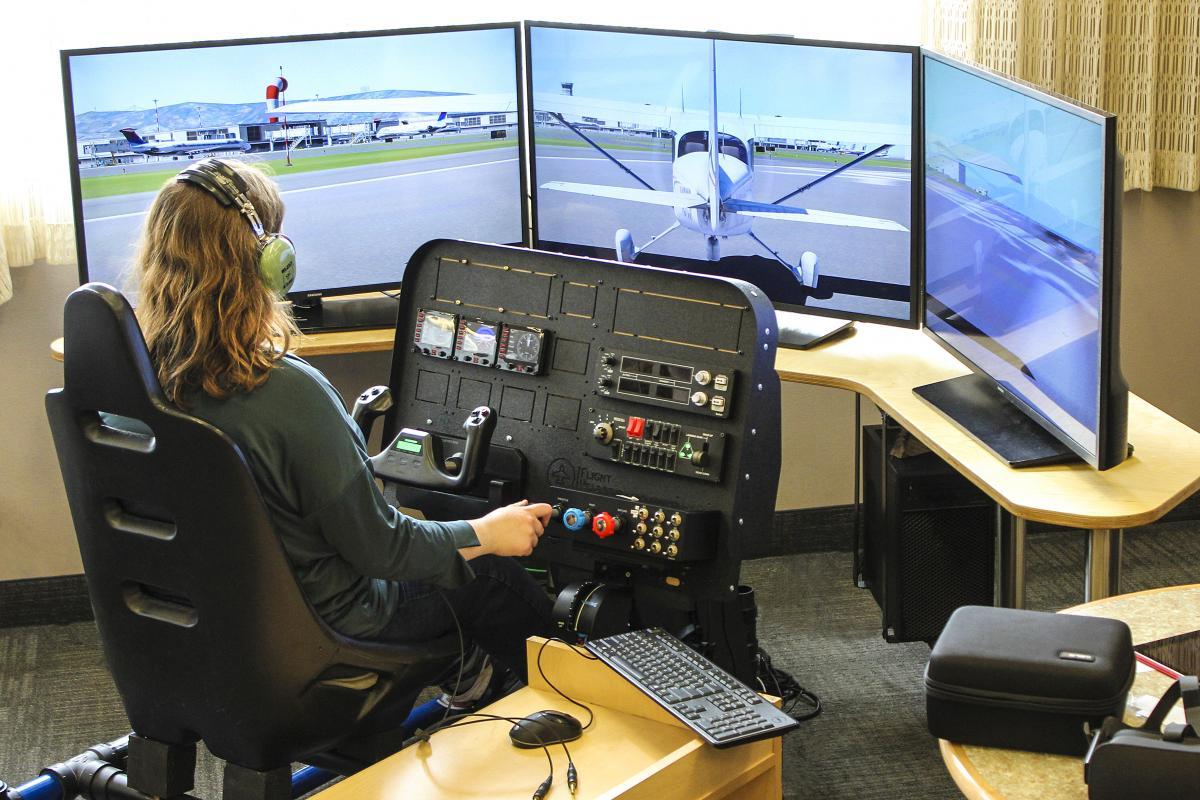 The Airplane Flight Simulator is a student installation on the third floor of the Cal Poly Humboldt Library, designed to cultivate an interest in aviation. Housing it in the Library makes it accessible to everyone.
Planning for the flight simulator began in Fall 2018, led by PC Gaming Club President Sarah Kanga Livingstone. Students in the club were able to create what you see today thanks to community members generously donating around $10,000. Students plan on continuing their fundraising efforts to improve the simulator. For many students, this is their first time interacting with an airplane cockpit. An augmented reality flight simulator like this project is designed to replicate the real thing. Studies show that simulations are effective ways of training the brain and this simulator can instill a love for flying, potentially leading students to a career in aviation. With the support of community members, this project was unveiled Spring Semester 2019, to great excitement.
In the Fall of 2021, several students started an Aviation Club at Cal Poly Humboldt to take on oversight of the flight simulator, among other goals. Jasmin Torres, a 4th year business major, became the founding president and worked with others to craft the club's founding mission statement. During this time, Tanner Hooven and other club members studied for and passed their FAA drone pilot exam.The club plans to meet in the LIbrary so they can learn the fundamentals of airplane operations using the flight simulator and share their passion of flying with others.
Choose from different types of aircraft, take off from airports all over the globe, and enjoy the scenery as you enjoy the flight simulator. All library visitors are encouraged to try it out! There are instructions nearby to help you start the engine, set the flaps, and take flight!
To learn how you can support the club and the flight simulator project, please contact them at aviation@humboldt.edu or Dave Marshall, club advisor, at dave@humboldt.edu.