Cal Poly Humboldt Library is the heart of the University, and valued by students as their favorite place on campus, many thanks to our supporters. When you give to the Cal Poly Humboldt Library, you are advancing student researchers and creativity, reducing the cost of an education with textbooks on reserve, enabling access to emerging technologies such as the digital dissection table and flight simulator, and inspiring learners and readers with research collections including Special Collections, The Press at Cal Poly Humboldt, and more.  
The Library promotes teaching, learning, research, and scholarship by integrating information resources and innovative programs and services. Your gifts have a tremendous positive impact on student experiences and learning. Discover and explore where your vision and ours come together and the many different ways you can make a gift today!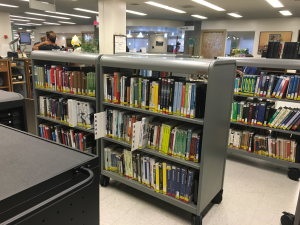 Students spend an average of $400 each semester on textbooks and greatly appreciate the Library's Textbooks on Reserve Collection. Imagine the financial impact on students that already pay approximately $25,000 per year to attend Cal Poly Humboldt. During Fall Semester 2022, students checked out 347 unique textbooks over 2200 times, With an average textbook cost of $120, this collection cost the library roughly $40,000 to purchase, but allowed students to save nearly $270,000. A recent national survey indicated that 65% of students are not purchasing a textbook because it was too expensive, and 90% worried that doing so would hurt their grade. To help our students meet the need to afford a college education, the library purchases expensive textbooks for course reserve checkout. This provides students free, short-term access to their textbooks in the library, so many students benefit from the same shared textbook. Your donation can make a crucial difference in the lives of Humboldt students. You can also designate a nameplate inside the textbook that honors your donation or someone that made a difference in your life.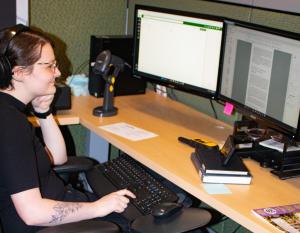 Library Scholar interns earn real world experience in research, digital media, and publishing through project-based learning.  These high-impact learning experiences give hands-on training, team building, and publishing opportunities to produce work that shares Humboldt's unique collections and learning worldwide. Interns lead projects such as researching and writing for the web, curating exhibits and engagement programs, creating presentations or virtual reality, and text layout and digitization for The Press. Your gift can help Cal Poly Humboldt students achieve their dream.
"As I made my way through the donation, I was reminded of sifting through my grandfather's collection after he had passed, and seeing a long life of scholarship and discovery reflected back at me. The same is true for Oliner's collection. I hope that my contribution to this project will allow his materials to make their way to library shelves and into the hands of students, staff, and other guests interested in his field of work."
--Anastasia Wright, Sam Oliner Gift Processing, Library Scholar Intern, Spring 2022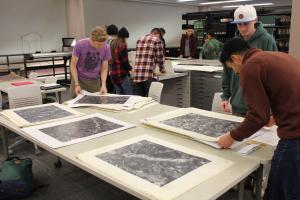 Cal Poly Humboldt Library's Special Collections is the region's premier location to research the history and communities of northwestern California. We provide open access to Cal Poly Humboldt students and researchers from around the world to a unique collection of photographs, maps, rare books, and archival materials. By providing paid student employment opportunities and internships, Special Collections is working to add archival material to our ever expanding digital collections while training the next generation of archivists and librarians.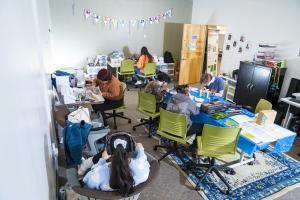 Access to emerging technology and innovation is essential for students' educational experiences, as well as engaging in real-world learning and solutions. The Library Makerspace and Digital Media Lab (DML) equipment is available to everyone in any discipline or at any level of experience. The Makerspace and DML is a place where you can brainstorm, prototype and iterative design, and create physical and digital projects with opportunities to get feedback from other makers in the community.  We provide students with 3D printing, opportunities to engage or create Virtual and Augmented Reality, to record and edit audio or 360 video, and to experiment with new startup ideas. Donations to support internships, equipment, supplies, and educational programs are essential to fostering a vibrant innovative culture.  We are looking to expand the equipment our students have been asking for: laser cutting tools, large format 3D printers, and more. We appreciate the support for students to access these creative technologies for entrepreneurship, learning, or research.
NW Conference Room / 360 Room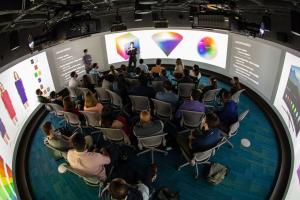 Imagine a space designed to explore visualizing data or immersing video environments, such as underwater and tide pools, urban landscape, wildlands, tree canopy, recent hill slide or fire. These spaces are emerging as the classroom of the future. Why put on the VR goggles, when everyone can join in the immersive experience and share observations and explore areas of interest? Creating the 360 Visualization Studio and Theater in the Library enables everyone to use the latest projection technology, and alongside the Digital Media Lab's 360 cameras, can make these experiences a reality. The space we have in mind would be able to hold an event for 99 attendees in theater seating, or 40 in 360 projection.
A-Z Rooms: Audio Recording and Zoom Rooms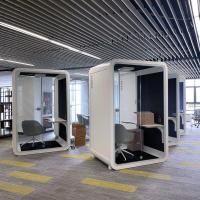 With the sudden increase in online courses, our campus students are often asking for isolated rooms to engage in online discussions between their face to face classes, and some students and faculty are asking for a room to create audio recordings and podcasts. We are interested in a suite of individual and group rooms for audio/podcast recordings or zoom rooms. The cost for an individual room is approximately $6,000, and we are seeking to add 6 individual rooms, and 2 group rooms.
Digital Information Wall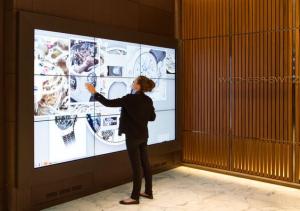 Panoramic images, videos, GIS data visualization and other types of multimedia presentations help us understand data and information. With the Digital Information Wall, a visualization space, students can present their research data, creative productions and more. The interactive multi panel LEDs mounted on a wall in the library will provide a powerful immersive environment for presentations, teaching and learning programs, and showcases of art, humanities, social sciences, and sciences. 
Book Collection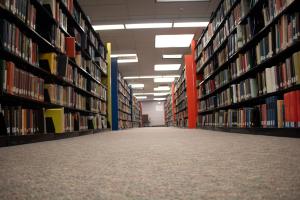 Build a vibrant book collection with up-to-date and unique resources. The cost of new books and information continues to increase, and we are very interested in building important research and special collections that meet the needs of students, faculty and community. Please help us build in areas or disciplines that you are passionate about, any donation helps, and collection endowments can be formed starting at $27,000 or more.