Join the Cal Poly Humboldt Library in improving the online discovery of the places we enjoy in Humboldt, and be a part of supporting the economic resilience of Humboldt County. It's fun and easy to contribute photos and reviews using Google Maps and other platforms, and to make a powerful impact on our community and the economy.
Join us in creating a Student Tourism/Travel Guide!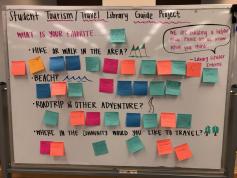 Thanks to Library Scholar Internships and Thomas Boyd, a 1972 alumnus in Business Administration from Cal Poly Humboldt with years of experience in the travel industry, we researched how to promote tourism and travel in our area to Humboldt students. In 2019, two Library Scholar Interns evaluated websites and gathered suggestions from students to better understand what tourism and travel information they wanted to know more about. Students shared favorite suggestions on Library Whiteboards.
Next, two more Library Scholar Interns researched and reviewed area tourism and travel information, and one Library Scholar Intern, with their Computer Science 480 class, researched the development of a web application to make events and favorite places discoverable in one location. What are a few favorite hikes and parks according to Humboldt students? Headwaters Trail, Redwood Park, and Trillium Falls. Some favorite beaches include Clam Beach, College Cove, Moonstone, and Trinidad Head.
Rather than learning about these through word of mouth, our goal is to make it easier to find the variety of fun places to visit as a new student or a visitor to our area. We intend to enhance the information and improve the reviews of the favorite locations in our area to connect that information to people.
Interested in helping? Add your reviews of places you know and love. Here are some tips for sharing information that helps us all discover and grow to love Humboldt County:
Use your social media to share information about your favorite sights with the tag #TourismHumCo to help us gather information for our guide.
Consider adding information or your reviews to some of the favorites shared by students. Look up your favorite locations in a variety of discovery platforms, then add photos, reviews, or other information. For example, at this time of writing, Trillium Falls has a website, and has 32 reviews on Trip Advisor, 88 reviews in Google Reviews, but no photos on Google Maps. We can all enhance discovery by adding more reviews and information.
Share details about the places you enjoy that others might care about,too, such as: finding ADA accessible parks, dog off-leash parks and beaches, great swimming holes, or family friendly parks.
As for favorites, here is a list in progress that students shared during the Spring of 2019:
Favorite Hikes: Agate Beach, Arcata Community Forest, Arcata Marsh, Centerville Beach, Devil's Playground, Fern Canyon, Ferndale, Headwaters Trail, Lost Coast (Northern 25, Southern 25), Pamela's Point, Prairie Creek, Redwood Park, Russ Park, Strawberry Rock, Trillium Falls, Trinidad Head
Favorite Beaches: Agate Beach, Big Lagoon, Centerville Beach, Clam Beach, College Cove, Luffenholtz Beach, Mad River, Moonstone Beach, Samoa Beach, Trinidad Head
Other Favorites: Blue Lake, Crescent City, Ferndale, Fort Humboldt, Scotia, Six Rivers (Smith River), Swimmers Delight, Trinity Alps
There are so many more wonderful Humboldt County areas! Please share your favorites using the hashtag #tourismhumco, and if you would like to be added to the list of contributors at Discovering Humboldt Contributors, simply email your name and review to: DiscoveringHumboldt@Humboldt.edu. Thank you for your contribution!
Why Discovering Humboldt?
Word of mouth is a frequent way to find out all the great places to visit in Humboldt County, and it takes years to learn a fraction of the beautiful places to visit. To make our information more readily accessible for searches like "dog walking trails near me" or "accessible trails" and to support our economic recovery, we want to enhance our regions' information and leverage tools we all use.
First and foremost, we want Humboldt discoveries to have your voice, and it is fun to write reviews, contribute photos, and be acknowledged as a local guide. Secondly, by enhancing regional information, we make Humboldt visible in a world where search engine bias for big data often directs traffic to the data wealthy. Rural areas are challenged because of the lack of recognition that rural communities have in comparison to more popular destinations that are often near urban areas or well-established tourist sites (Brown, 2015). Tourists are more likely to select destinations to visit if they see images and reviews (Croy, 2010), and this is especially a challenge for rural communities given the scarcity of reviews. Increasing and enhancing information about the region's recreational and educational opportunities will serve to support both the tourism economy, student retention at Cal Poly Humboldt based on a sense of belonging to the community, and supports digital information literacy skills; and the Library is about connecting people and information.
To increase tourism development in our rural area, and to enhance student experience, we propose to develop a diverse range of information and perspectives about the area. By "Discovering Humboldt," the variety of details, images, and information make it easier to find the places we enjoy, attracting tourists and students who are interested in enjoying sightseeing attractions and activities. By collectively answering what is there to do in Humboldt County, we enrich everyone's life. Discovering Humboldt will be an iterative project that each semester adjusts to the realities of the community, and learning various platforms.
Please let us know if you have feedback or suggestions by emailing us at DiscoveringHumboldt@Humboldt.edu Thank you for contributing photos and reviews.
Humboldt Rural Tourism Summit
In May 2021, Library Scholar Intern Annika Slattery presented the first Humboldt Rural Tourism Summit with the goal to get Humboldt hospitality stakeholders excited about rural tourism and learn what works and how to collaborate on promoting tourism in rural areas. It was also an opportunity to foster connections between the local Humboldt community and outside tourism professionals. Featured speakers were:
Tami Reist, President & CEO of the Alabama Mountain Lakes Tourist Association
Julie Benbow, Executive Director of Visit the Redwoods
Please go to the YouTube link above to view the interesting event.
Discovering Humboldt Contributors